hallsandshores at hotmail dot com
--------------------------------------
--------------------------------------
Let Mike the Marine win your hearts and minds, or he'll burn your damn village down. - Glenn Reynolds
******************
******************
YouTube channel
-
LiveLeak channel
-
I'm Batman
-
Visit Harvey to meet
the whole family!
-
Links
Department of Defense
Intel Sources
Treasury Department
National Archives
International Allies
Weapon of Mass Destruction
USO
1st Motion Picture Unit
Varga Girls (Why We Fight)
Liberty Port


"Section Eights"
Blog R & R

MIA
------------------------------------
Archives
Jan 22, 2004
UP-UP-DOWN-DOWN-LEFT-RIGHT-LEFT-RIGHT-B-A-B-A-START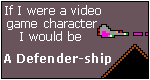 I am a Defender-ship.


I am fiercely protective of my friends and loved ones, and unforgiving of any who would hurt them. Speed and foresight are my strengths, at the cost of a little clumsiness. I'm most comfortable with a few friends, but sometimes particularly enjoy spending time in larger groups. What (Pre-1985) Video Game Character Are You?




found at Heather's

And since I'm in a contest mood (and Dumass was so quick on the trigger - you tard), NOBODY gets Mojo until somebody tells me where the title of this post came from and what it means.
|